A dynamic duo designed to transform your skincare routine. Our Foaming Facewash, infused with Salicylic acid and Zinc PCA, deeply cleanses and exfoliates, combating acne-causing impurities. Paired with our Niacinamide Serum 5% + Hyaluronic Acid 1% Serum, experience the power of blemish-fighting Niacinamide combined with intense hydration from Hyaluronic Acid. Achieve clearer, smoother skin with this synergistic blend.
Acne, Blemishes, Excess Oils, Dullness
Share
Say farewell to troublesome breakouts and embrace a newfound confidence with our expertly crafted Anti-Acne Combo. Formulated with precision, our Foaming Facewash with Salicylic acid and Zinc PCA dives deep into pores, banishing impurities and helping prevent future flare-ups. Complementing this is our Niacinamide Serum 5% + Hyaluronic Acid 1% Serum, a dynamic blend that not only combats blemishes but also nourishes and hydrates your skin for a revitalized, radiant glow. Elevate your skincare routine to a whole new level and unlock a complexion that's as vibrant as you are.
Our Anti-Acne Combo is your ultimate weapon against acne-related woes. The Foaming Facewash's Salicylic acid and Zinc PCA tag team effectively cleanse pores and banish acne-causing culprits, while our Niacinamide Serum 5% + Hyaluronic Acid 1% Serum steps in to soothe, heal, and maintain optimal hydration levels. This combo isn't just about addressing acne; it's a holistic approach to achieving a clear, luminous complexion. Join countless others who have experienced the transformation firsthand, and unshackle your skin from the grip of acne. Your journey to healthier skin begins here.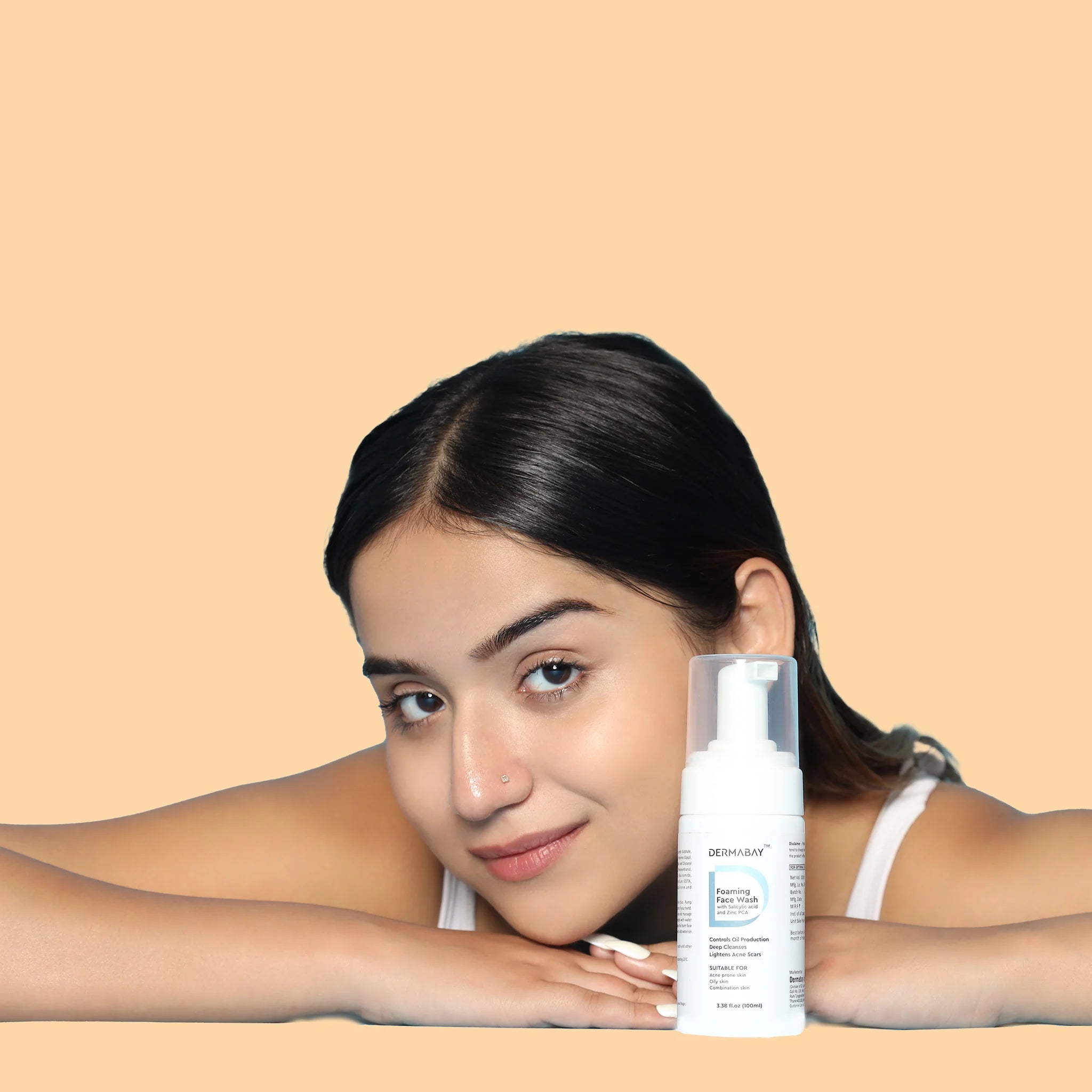 Quick and Effective
Within a week, I noticed a significant reduction in breakouts. This combo is impressively fast-acting.
Life-Changing Results!
I've struggled with acne for years, but this combo changed everything. My skin has never looked better!
Clearer Skin in Weeks
Within just a few weeks of using Dermabay's Anti-Acne Combo, I noticed a significant improvement in my skin. My acne scars started to fade, and I had fewer breakouts. It's been a lifesaver for my confidence.
No Harsh Chemicals
What I love about Dermabay is that their products are free from harsh chemicals. The Anti-Acne Combo is gentle yet effective, and I appreciate the natural ingredients used. My skin feels clean and healthy.
Perfect Skin Secret
Priya here, and I'm in love with the Dermabay Anti-Acne Combo. It's like a magic potion for my skin. Say goodbye to acne, just like I did!