Bid farewell to the signs of aging with Dermabay's Retinol 0.2% Serum and Hydrating Moisturizer combo. This powerful pairing harmonizes to smooth skin texture, minimize pore appearance, and intensely hydrate, unveiling radiant, younger-looking skin. Embrace your ageless beauty with this potent skincare combination.
Fine lines ,Wrinkles ,Loss of elasticity ,Uneven Skin Tone ,Enlarged pores ,Dryness, Dull and Damaged skin.
Share
Introducing Dermabay's 'Anti Aging Combo' - the perfect partnership of our Retinol 0.2% Serum and Hydrating Moisturizer. Together, they work in harmony to smooth out your skin texture, minimize pores, and lock in moisture.
Beyond the fundamentals of skin health, these two help reveal your skin's true youthfulness. Embrace age-defying beauty and say hello to a fresher, more radiant you. Experience the power of effective skincare with this potent combination.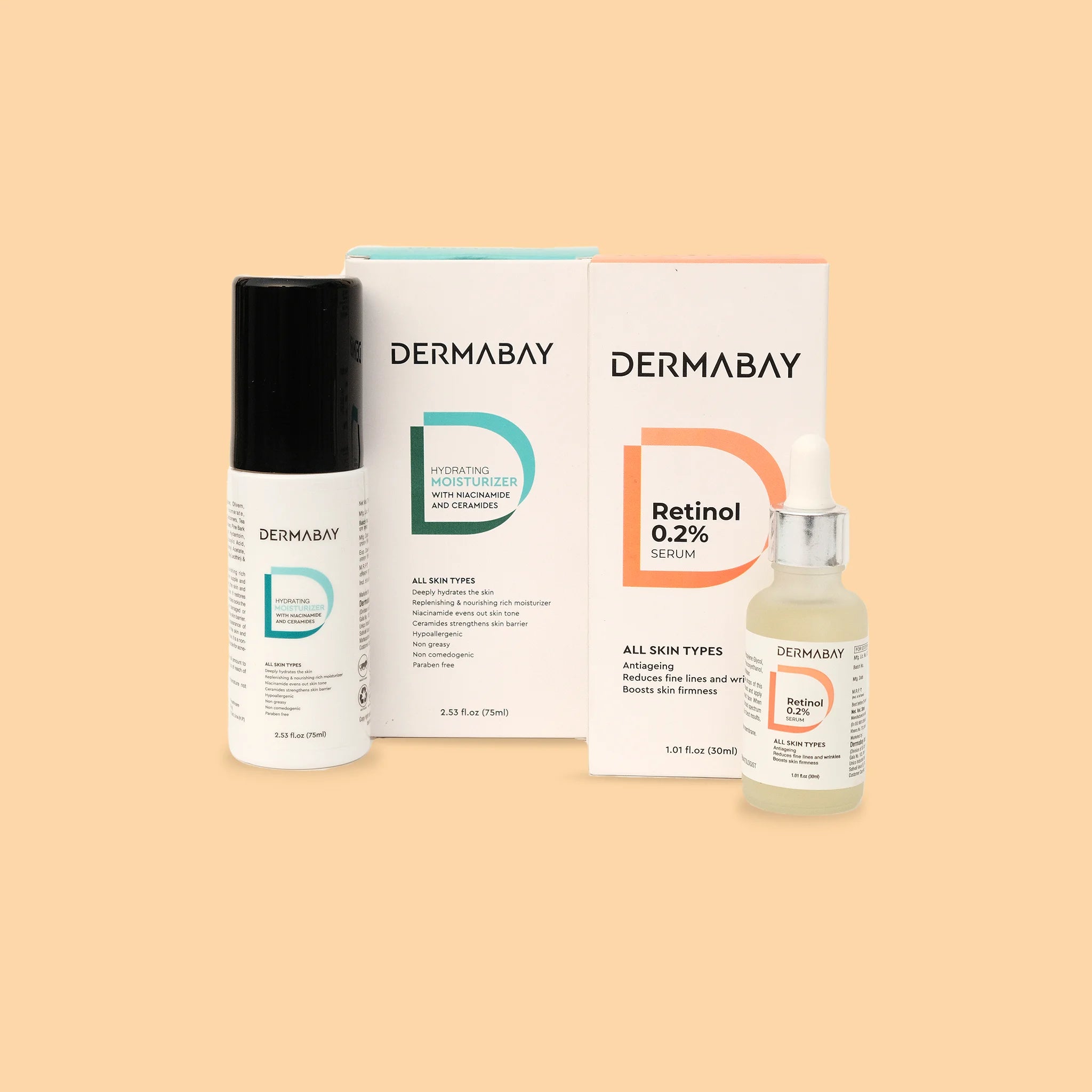 Affordable Anti-Aging Bliss
This anti-aging combo doesn't break the bank, and it delivers great results. While it might not be a luxury brand, it's an excellent choice for those looking for quality on a budget.
No More Wrinkles! A Miracle Combo for Aging Skin
I've been using the Anti-Aging Combo for a few months, and the results are astounding. My wrinkles have noticeably diminished, and my skin looks healthier and more radiant. I can't recommend it enough!
Smoother, Firmer Skin
The Dermabay Anti-Aging Combo has left my skin feeling smoother and firmer than ever before. Discover the noticeable improvements I've seen in just a few weeks.
The Ultimate Duo
Say goodbye to fine lines and wrinkles with the Dermabay Anti-Aging Combo. Read about my experience with this dynamic duo in the battle against aging.
Timeless Beauty Secret!
As someone in her late 30s, I was concerned about signs of aging creeping in. Dermabay's Anti-Aging Combo has been a game-changer. My skin looks firmer and healthier than ever. This combo is truly a timeless beauty secret!