Step up your skincare with the Niacinamide 5% + Hyaluronic Acid 1% serum and Hydrating Moisturizer combo. This dynamic duo works hand-in-hand to balance sebum production, smooth skin texture, and fortify your skin barrier. Dive into the luxurious experience of skincare that truly delivers results.
Dark spots, Blemishes, Acne marks, Enlarged pores, Oiliness, Dryness, dull, damaged skin


Suitable for – All skin types
Share
Discover the full spectrum of skincare with 'The All Rounder', combining the Niacinamide 5% + Hyaluronic Acid 1% Serum and Hydrating Moisturizer. This dynamic duo strikes the perfect balance between sebum control and hydration, ensuring your skin stays healthy and beautiful.
Also, experience the power of smooth texture and fortified skin barriers. Dive into this luxurious combo, and let your skin soak up the goodness it deserves. Achieve visible results and feel the Dermabay difference.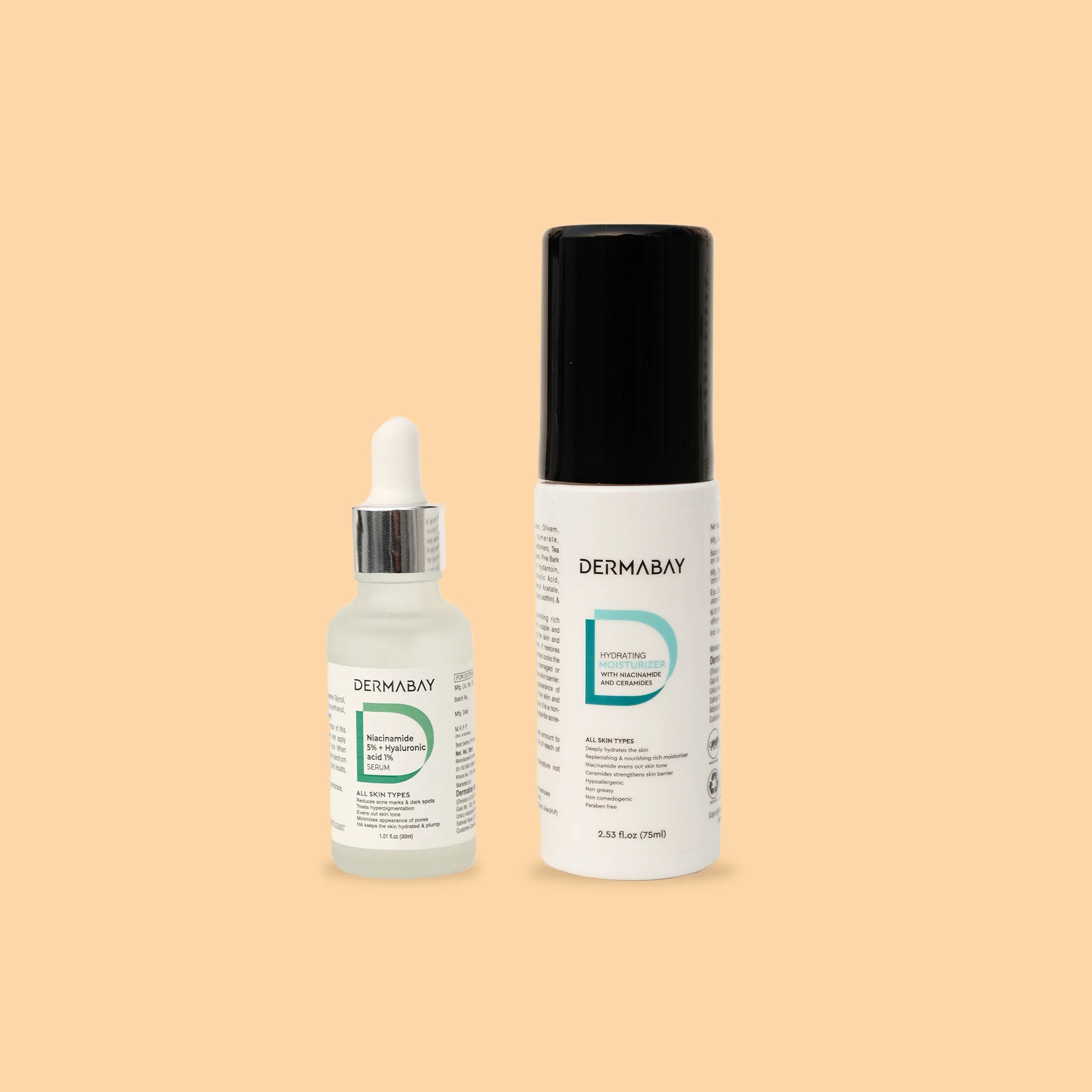 Cleared My Skin!
I struggled with acne for years, but this duo has been a game-changer. The cleanser keeps my pores clean, and the Vitamin C Serum has significantly reduced the appearance of blemishes. Only four stars because it can be a bit pricey for daily use.
Goodbye, Fine Lines!
I started using Dermabay's Vitamin C Serum along with their Gentle Skin Cleanser a few months ago, and I'm amazed at the results. My fine lines are visibly reduced, and my skin feels smoother and more hydrated. Highly recommended!
Works Well Under Makeup
This serum-moisturizer combo serves as an excellent primer for makeup. It leaves my skin smooth and prepped, ensuring my makeup stays in place throughout the day. A great addition to my daily routine.
A Skin Savior!
I've been using Dermabay's Niacinamide Serum with hydrating moisturizer for a few weeks now, and I'm amazed by the results. My skin feels smoother and looks more radiant. It's a true game-changer for my skincare routine!
Perfect for Busy Lifestyles
As a busy professional, I appreciate the convenience of having a complete skincare routine in one package. It saves me time and ensures I never skip a step.