Brightening Serum with Kojic Acid, Alpha Arbutin, Tranexamic Acid, Azelaic Acid


Discover the secret to luminous, flawless skin with our Brightening Serum. Tailored for all skin types, this extraordinary formula is a harmonious blend of nature's best-kept secrets.
Key Ingredients:

Kojic Acid: Sourced from nature, this miraculous ingredient works in harmony with your skin to fade hyperpigmentation and illuminate dark spots, making your skin a canvas of radiance.

Alpha Arbutin: The gentle yet effective component that brings balance to your skin, helping to diminish those uneven tones, granting you a complexion that emanates sheer brilliance.

Tranexamic Acid: The unsung hero that wages a relentless battle against hyperpigmentation, ensuring your skin's story is told in perfect harmony.

Azelaic Acid: This multi-talented ingredient, renowned for its skin-clearing abilities, bestows upon you the gift of a smooth, radiant visage.

Benefits:

Reduces Hyperpigmentation & Dark Spots: Leave behind the worries of dark spots and hyperpigmentation as this serum weaves its magic, leaving your skin a canvas of pure beauty.

Evens Out Skin Tone: Achieve a complexion of uniformity and harmony. This serum is your key to unlocking a glowing, radiant appearance.

Dermabay's Brightening Serum is the answer to your quest for brilliant, flawless skin. A radiant glow awaits, with just a few drops of this transformative serum.

Share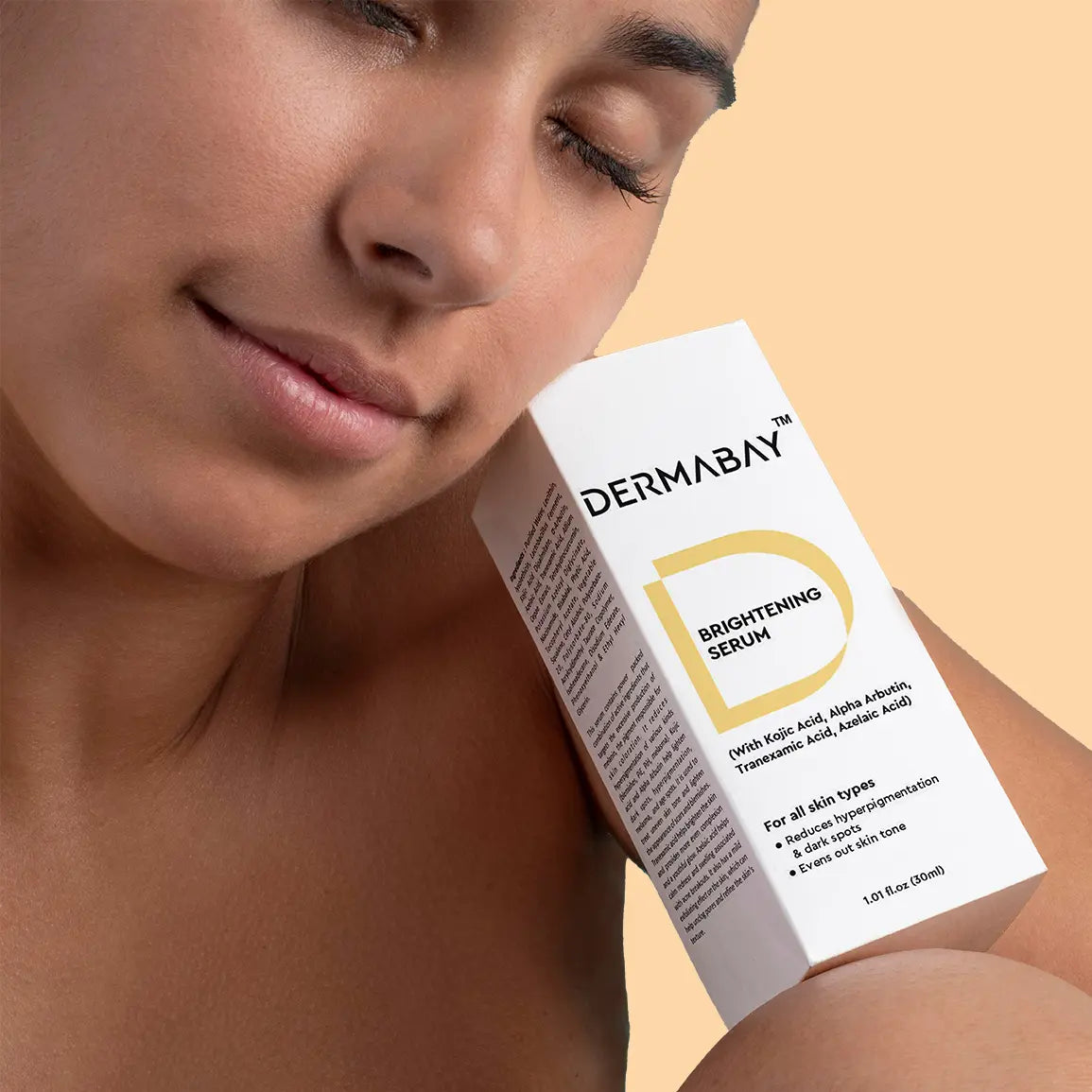 Unveil Your Radiance
Dermabay's Brightening Serum is your gateway to embracing the luminous, vibrant skin you've always dreamed of. With continued use, this serum becomes a companion on your journey to a brighter, more even complexion. Watch as your hyperpigmentation fades into a distant memory, and dark spots gracefully diminish, revealing the true beauty of your skin.

Gentle and Effective
Our Brightening Serum is meticulously crafted to be gentle on your skin yet relentless in its mission to reduce hyperpigmentation. You'll be amazed by its non-invasive, comfortable approach, ensuring that your skin feels nurtured and cared for throughout the brightening process. With a blend of potent, nature-inspired ingredients like Kojic Acid, Alpha Arbutin, Tranexamic Acid, and Azelaic Acid, this serum has all the tools required to transform your complexion into a radiant masterpiece.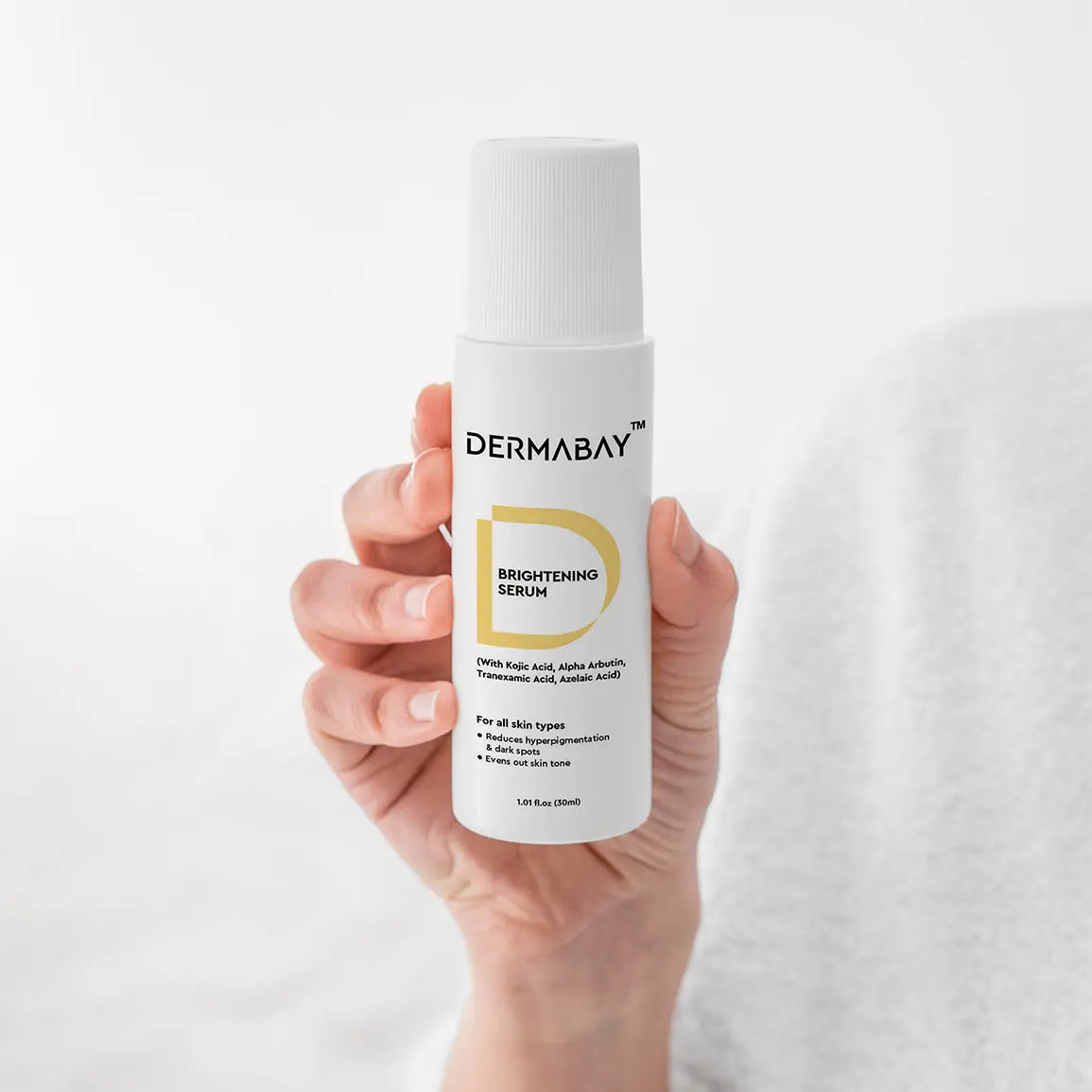 Brightening Serum
Loved the texture and the glow it provides to the skin. Totally going to recommend it to my friends.
Obsessed with this brightening serum.
This serum is a true game-changer! The blend of activities? has visibly reduced my hyperpigmentation and dark spots. My skin looks brighter and more even!
wonders for my oily skin.
Salicylic Acid & Zinc PCA combo works wonders for my oily skin. It controls my breakouts and leaves my skin feeling fresh and clean.
Dermabay's Lightweight Moisturizer is a Dry Skin Dream
Love, love, love this moisturizer! It's lightweight, yet incredibly hydrating. My skin feels nourished without feeling heavy. Dermabay's formula is a savior for my dry skin!
Say Goodbye to Skin Woes: Dermabay's Niacinamide Serum is a Game-Changer!
Dermabay's Niacinamide serum is a lifesaver! I've noticed a visible reduction in pores and redness. My skin feels more balanced and healthier. Highly recommend for anyone dealing with skin congestion!