Dermabay's Hydrating Moisturizer goes beyond the surface to deeply hydrate and protect your skin. Infused with Ceramides, Olivem, Glycerin and Niacinamide, this moisturizer locks in natural moisture, heals dry, damaged skin, and minimizes the appearance of enlarged pores. Enjoy a long-lasting, youthful glow, and let your skin drink up the nourishment it craves.
Dryness, dull, Damaged skin, Uneven skin tone ,Enlarged ,Pores

Suitable for -All skin types
What exactly does Dermabay Hydrating moisturizer do?

1.Dermabay's Hydrating moisturizer for skin deeply penetrates and hydrates the skin and gives you a long lasting protection.
2.Ceramides locks in moisture amd heals dry, damaged and flaky skin.
3.Derived from Olive Oil, Olivem is known to have amazing hydrating properties. It deeply penetrates your skin and fixes all the dehydrated cells which gives you the beautiful hydrating and dewy look. It has long lasting effects too.
4.Glycerin is the good old elixir that has been in use for ages. It acts as a humectant which is a substance that allows the skin to retain it's natural moisture. It increases skin hydration, relieves dryness and refreshes the skin surface.
5.Niacinamide regulates the oil production while protecting skin's natural barrier. It has amazing anti aging properties, minimizes the appearance of enlarged pores and evens out skin tone.


Why buy Dermabay Hydrating Moisturizer?

1.Formulated with Ceramides, Olivem, glycerin and Niacinamide, Dermabay hydrating moisturizer deeply hydrates the skin, locks in the natural moisture and provides you a long lasting hydrated skin.
2.Application of Dermabay Hydrating Moisturizer can heal your skin from dryness, damage and flaky skin. Ceramides present in this blend locks in the moisture and prevents your skin from drying out. It not only replaces the moisture that has been lost, it prevents further loss too.
3.This blend of hydrating moisturizer cream gives you a younger looking skin. It prevents fine lines and wrinkles appearing from dryness and dehydrated skin.
4.It is a replenishing and rich nourishing moisturizer with ultra smooth texture that glides easily on your skin and makes your skin supple and soft. After giving a dose of this hydrating moisturizer for skin, it gives you a firm and plump look you desire.
5.Dermabay hydrating moisturizer benefits the skin. The Ceramides present in the blend locks in and retains the moisture and prevents further loss while protecting the skin from damage and irritants by forming a protective layer and strengthening skin's natural barrier.
6.Spreading evenly and smoothly this hydrating moisturizer doesn't leave a sticky, greasy and white residue on your skin. It gives a dewy, hydrating and leaves your firm and plumper all day long.
7.Niacinamide present in this helps in minimizing the appearance of enlarged pores and gets you rid of the orange peel texture. It evens out the skin tone, prevents acne while not changing the skin's natural barrier.
Share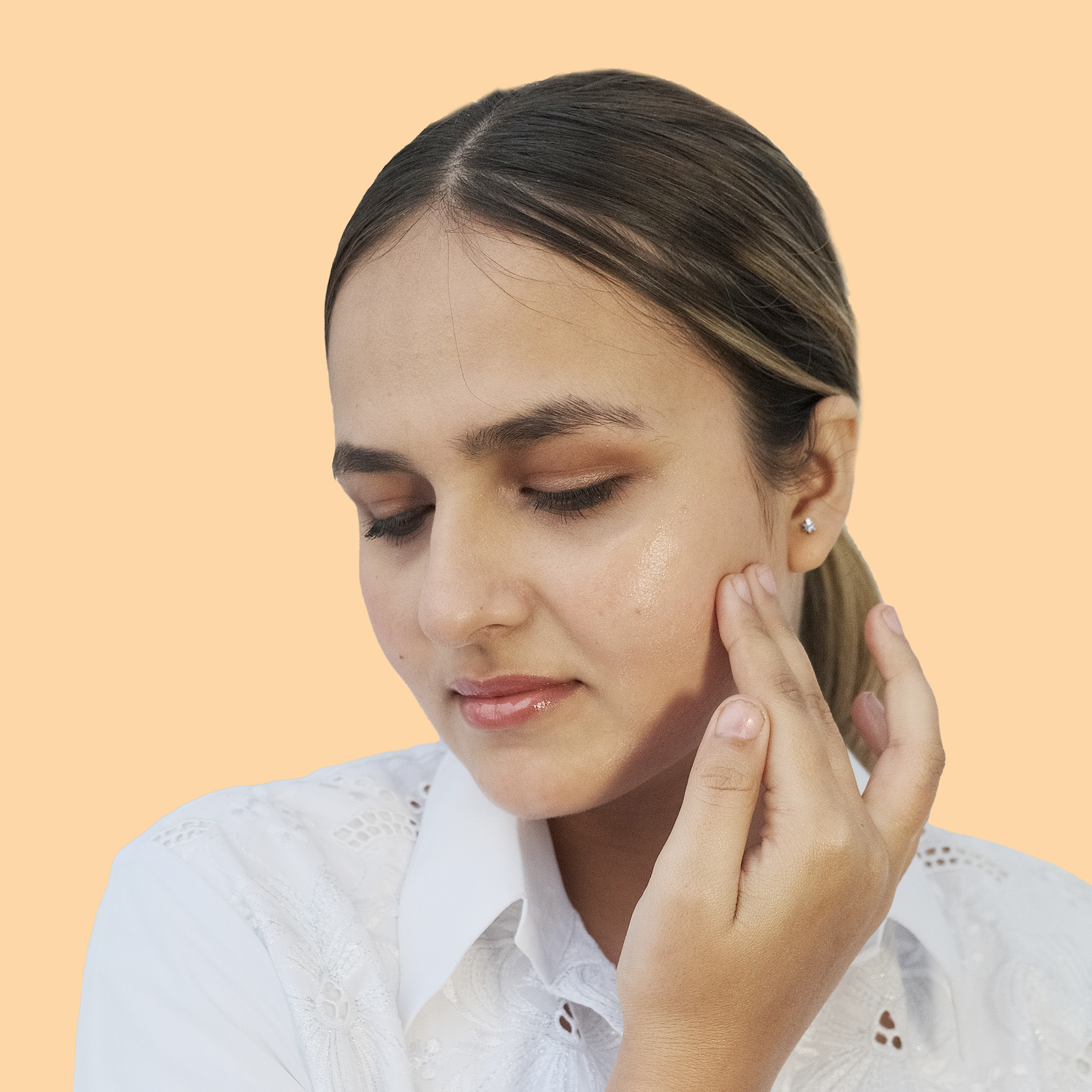 Quench Your Skin's Thirst
Dermabay's Hydrating Moisturizer is more than just a moisturizer. Infused with ceramides, olive, glycerin, and niacinamide, it quenches your skin's thirst from deep within, locking in natural moisture and healing dry, damaged skin.
Your skin's daily dose of rejuvenation comes packed in this moisturizer. Dermabay's Hydrating Moisturizer isn't just about hydration, it also works on refining the appearance of enlarged pores. Your skin will bask in the youthful glow it brings, thanking you for the nourishment it was craving.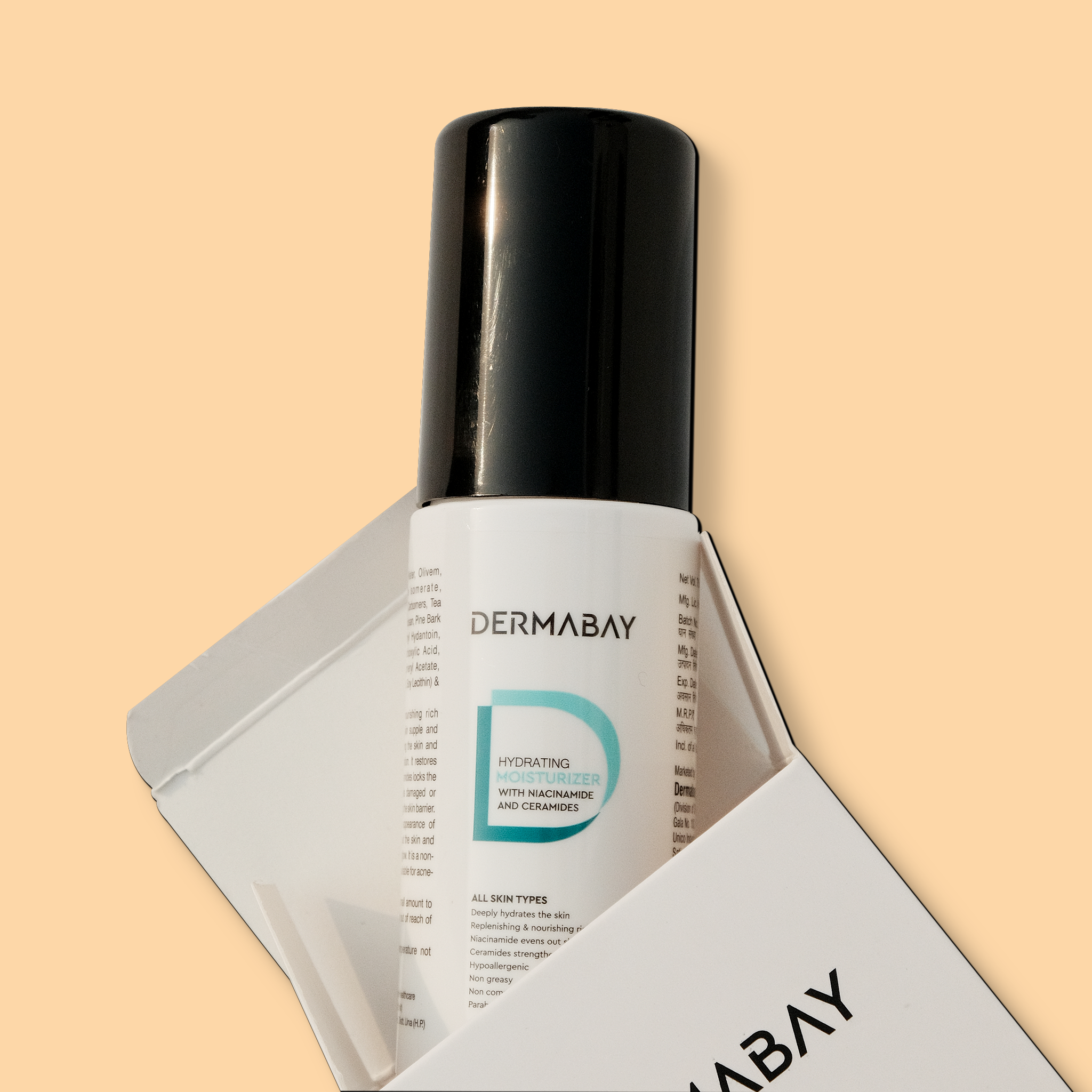 Dermabay's Lightweight Moisturizer is a Dry Skin Dream
Love, love, love this moisturizer! It's lightweight, yet incredibly hydrating. My skin feels nourished without feeling heavy. Dermabay's formula is a savior for my dry skin!
No More Irritation
Sensitive skin no longer means redness and irritation for me. Dermabay's moisturizer is a soothing balm for my complexion.
Healthy, Glowing Skin - Guaranteed!
If you want healthy, glowing skin, this moisturizer is your guarantee. I've never been so confident in my skin's appearance.
Saves My Skin in Harsh Winters
Living in a cold climate, I rely on this moisturizer during harsh winters. It prevents my skin from getting dry, flaky, or chapped.
No Breakouts or Clogged Pores
I have acne-prone skin, but this moisturizer hasn't caused any breakouts or clogged pores. It's non-comedogenic and keeps my skin clear.