Experience a burst of freshness with Dermabay's Gentle Skin Cleanser. It goes beyond basic cleansing, working effectively to unclog pores, remove makeup, and eliminate dirt and excess oil. It also delicately exfoliates, clearing away dead skin cells to reveal a more vibrant complexion. Dermabay Gentle Skin Cleanser doesn't disrupt your skin's natural barrier, providing a deep cleanse that's kind to your skin. Feel the soft, smooth glow of clean, revitalized skin today!
Step 1 - Take a coin size amount on your palm

Step 2 - Apply over damp skin until a smooth lather forms

Step 3 - Massage for 30 seconds

Step 4 - Wash it off completely

Use on a regular basis for amazing results

You can use niacinamide serum for face after the cleansing for better results.

Suitable for - All skin types

Spotlight on - (USP icons)
What does Dermabay Gentle Skin Cleanser exactly do?

1.The gentle skin cleanser will clear out the dust, dirt, make-up, excessive oil, dead skin cells and deeply exfoliate, giving you a clean, fresh and a bright looking skin.
2.It just gently extracts the impurities that might have gotten into your skin which can clog pores and lead to acne breakouts.
3.Once you use the gentle skin cleanser, your skin will feel hydrated, soft and smooth.

What makes Dermabay Gentle skin cleanser special?

1.Application of gentle skin cleanser benefits the skin by pulling away the impurities without changing the skin's natural barrier function, therefore prevents bacteria, irritants and allergens from penetrating the skin.
2.Dermabay gentle skin cleanser will not leave you red, flushed or flaky. It gently gets out the impurities and oil from your skin, leaving it more fresh, revived and rejuvenated.
3.It doesn't strip away the natural moisture of your skin and leaves your skin hydrated and moisturised.
Share
Unveil Fresh and Bright Skin
Pamper your skin with Dermabay's Gentle Skin Cleanser, a perfect blend of active ingredients that melts away makeup, dislodges dirt, and banishes excess oil. This special formula takes cleansing up a notch by gently exfoliating to unveil an alluring, vibrant complexion.
Experience a burst of freshness every time you cleanse. Our Gentle Skin Cleanser doesn't just get rid of impurities; it nurtures your skin too. Working without disrupting your skin's natural barrier, it paves the way for the soft, smooth glow of clean, revitalized skin.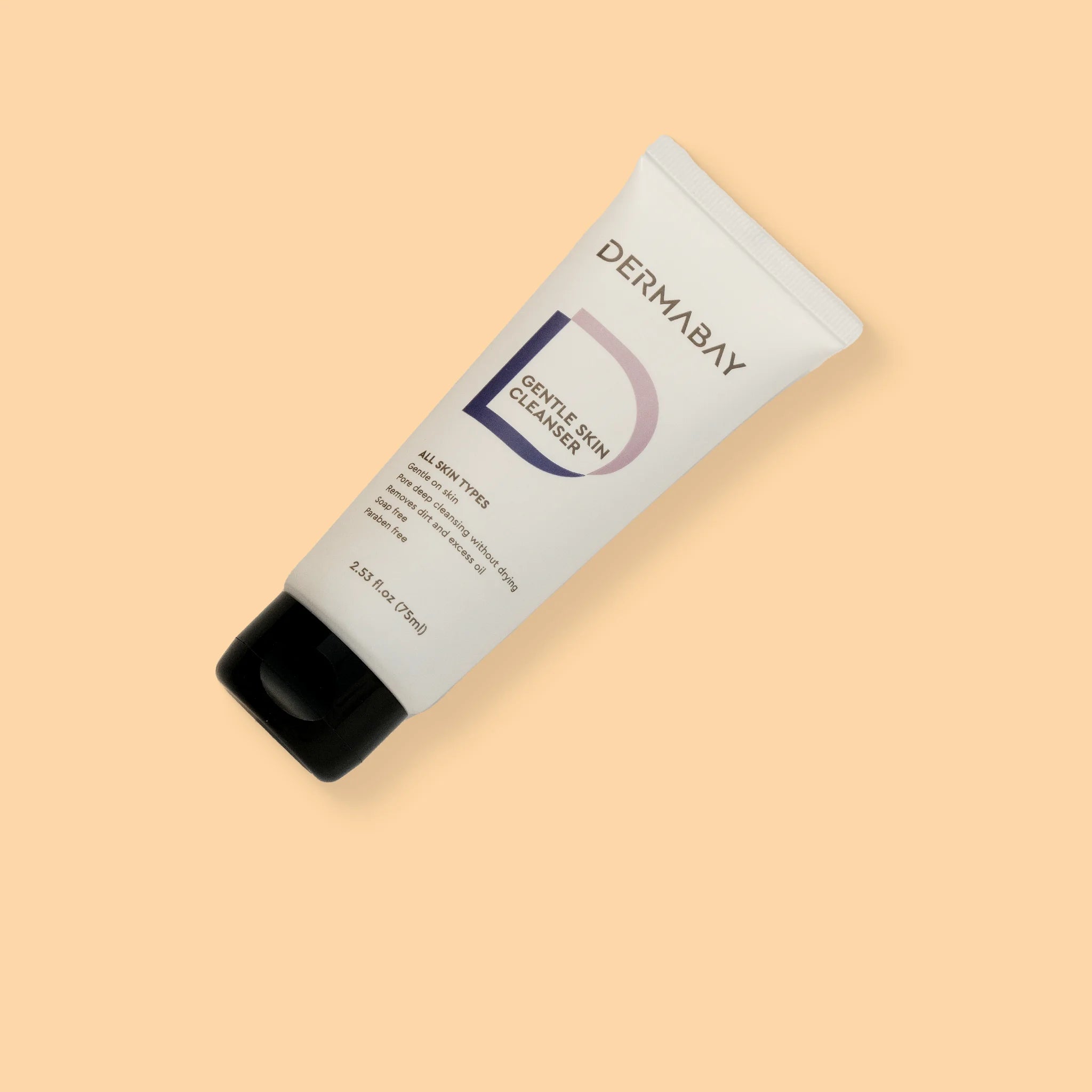 its loveeeee
This cleanser is a gem! It's gentle yet incredibly effective. I love how it leaves my skin feeling clean and refreshed without any dryness.
Best for Sensitive Skin
My sensitive skin has found its perfect match! Dermabay's cleanser is gentle and soothing. It removes impurities effortlessly, and I've noticed a visible improvement in my skin's texture since using it regularly.
No More Redness!
This cleanser has worked wonders for reducing the redness in my cheeks. It's truly gentle, and I've seen a noticeable improvement in my skin's complexion. Highly recommend!
Effective Yet Soothing
This cleanser strikes a perfect balance between effective cleansing and gentle care. It removes makeup and impurities without stripping my skin's natural oils. I wish it had a more pleasant scent, but the results speak for themselves.
Mild Fragrance-Free Formula
If you're sensitive to fragrances like me, you'll appreciate that this cleanser is fragrance-free. It's all about the clean without any added scent.