Niacinamide 5%+ Hyaluronic Acid 1% Serum


Bring your skin back to life with Dermabay's Niacinamide 5%+ Hyaluronic Acid 1% Serum. Dermabay's Best Niacinamide serum reduces the appearance of enlarged pores and evens out skin tone while promoting natural ceramide production for a healthier skin barrier. Coupled with Hyaluronic Acid's moisture-retention benefits, this serum ensures your skin remains hydrated, blemish-free, and full of youthful vitality.
Dark spots, Blemishes, Acne marks, Enlarged pores, Oiliness

Suitable for - All skin types

For better results use - Gentle skin Cleanser then the Niacinamide serum for face
What exactly does it do?

1.Niacinamide Vitamin B3 serum as an ingredient has a plethora of benefits including its ability to – minimise appearance of enlarged pores and improves the "orange peel" texture of your skin.
2.Restoring skin's natural barrier, niacinamide protects and increases the skin's defence against moisture loss, blemishes due to acne, and pigmentation. Niacinamide serum benefits the skin by promoting natural ceramide production that helps to form a healthy skin barrier.
3.Niacinamide serum for face also visibly evens out the skin tone and discoloration due to sun damage.
4.Hyaluronic acid retains moisture which makes your skin look hydrated and dewy.
5.It also helps to improve the overall skin texture, reduces acne breakouts, fine lines and wrinkles.
6.Niacinamide and hyaluronic acid together are a hydrating power combo which helps to maintain the protective barrier of the skin and keeps it hydrated, blemish and pores free.

What makes Dermabay's Niacinamide serum for face with Hyaluronic acid special?

1.Niacinamide serum for face aka Vitamin B3 has the seal of approval from dermatologists. From brightening to clearing the skin, reducing enlarged pore, smoothness, dull skin to fine lines and wrinkles, Dermabay Niacinamide face serum is everything you can ask for.
2.Niacinamide serum for face is a type of brightening ingredient that reduces dullness, dark spots, blemishes and evens out skin tone improving the skin's smoothness. Niacinamide serum benefits also include reducing acne marks and controlling sebum production.
3.Say goodbye to the "orange peel" texture. Dermabay Niacinamide face serum is best known for its ability to reduce the appearance of enlarged pores and minimising them, thanks to its restorative properties – it works like magic.
4.Famous for its ability to help and renew the skin's natural barrier, Niacinamide serum for face and neck restores the surface of skin against moisture loss and dehydration plus it helps recover and repair signs of past damage.
5.Its combination with hyaluronic acid makes the process of skin restoration even more smooth. Hyaluronic acid provides skin moisturization and makes the skin hydrated and plump. It has a lightweight, quick-absorbing texture with no sticky residue.
Share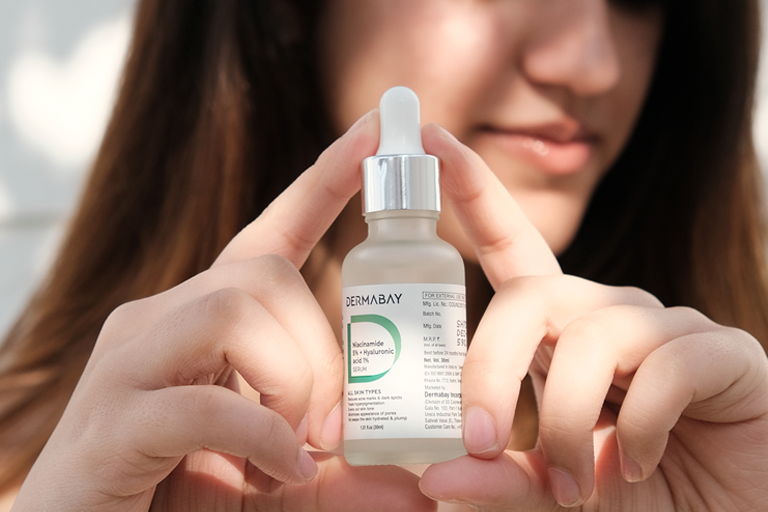 Refresh and Renew
With Dermabay's Niacinamide 5%+ Hyaluronic Acid 1% Serum, you're treating your skin to a recharging session. Niacinamide steps up to reduce the appearance of enlarged pores and even out skin tone while encouraging your skin's natural ceramide production.
That's not all. This unique serum offers the power of Hyaluronic Acid, a star player when it comes to moisture retention. Witness your skin transform with each application, as it drinks in hydration, fights off blemishes, and captures the essence of youthful vitality.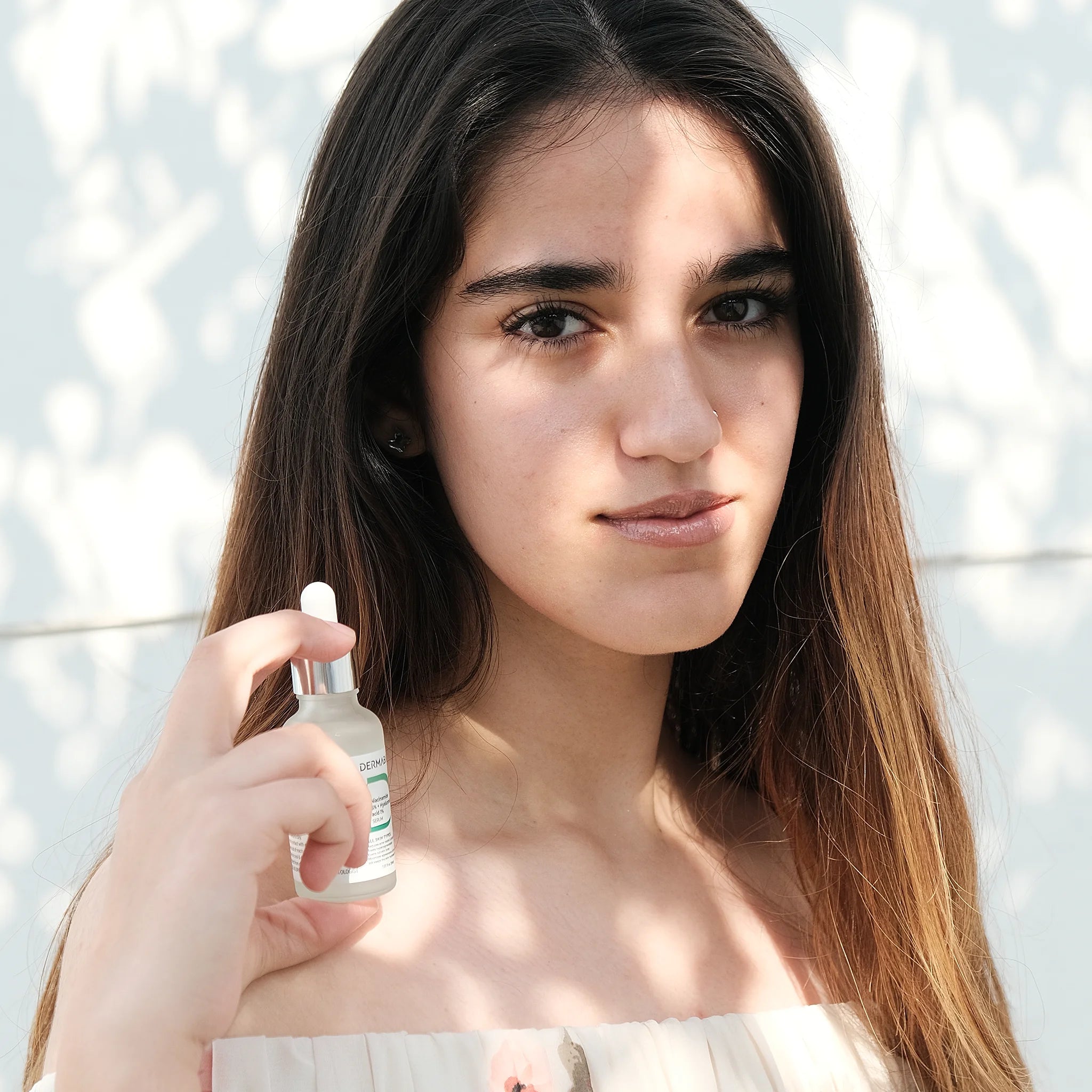 Say Goodbye to Skin Woes: Dermabay's Niacinamide Serum is a Game-Changer!
Niacinamide & Hyaluronic Acid blend is perfect. It's helped reduce my breakouts and keeps my skin hydrated without any greasiness.
Fights Blemishes and Boosts Radiance
The Dermabay Niacinamide Serum is a real gem for those with acne-prone skin. It's helped me clear up breakouts and fade post-acne marks. I love that it's lightweight and non-greasy, making it perfect for daily use.
Affordable and Effective
This serum is a budget-friendly gem! It effectively addresses multiple skin concerns, including excess oil, uneven skin tone, and fine lines. While it may not work as quickly as some high-end serums, the results are definitely worth the price. Plus, the large bottle lasts a long time.
Balanced Oil Production
I have oily skin, and this serum has helped regulate my oil production without drying out my skin. It leaves a matte finish that lasts all day.
Saves Money on Makeup
Thanks to this serum, I've been using less foundation and concealer. It minimizes the appearance of blemishes and imperfections.