Vitamin C 10% + Hyaluronic Acid 1% Serum
Use Code FLAT20 to get FLAT 20% OFF
Introducing Dermabay's Vitamin C 10% + Hyaluronic Acid 1% Serum, a perfect blend of skincare saviors that work together to bring out your inner glow. Our Ascorbic Acid (Vitamin C) helps in reducing acne scars, blemishes, and hyperpigmentation, while also acting as a shield against sun damage and a booster for collagen production. Hyaluronic Acid locks in hydration, giving your skin a dewy and plump appearance. Experience the benefits of these unique ingredients that work in harmony to improve skin texture, reduce signs of aging, and enhance skin radiance. Don't wait, let Dermabay boost your glow today!
Dullness, Uneven skin tone, Hyperpigmentation, dark spots, early signs of ageing

Suitable for - All skin types

For better results use - Gentle skin Cleanser then the Vitamin C serum for skin.
What exactly does it do?

1.Even if you have a lot of food rich in Vitamin C, it probably doesn't end up in your skin. Applying a Vitamin C serum directly is the easiest way to get the nutrients for a healthy and glowing skin.
2.Dermabay Vitamin C serum is quickly absorbed and gently penetrated into the skin, which acts on the inflammation, blocked pores, redness, swelling, bumps, blemishes and pimples and hence reduces the redness, hyperpigmentation, acne scars.
3.It is also effective in brightening skin tone and naturally acts on the early signs of ageing like wrinkles and fine lines, giving you the skin of your dreams. It is the best anti-aging serum your skin could ask for.
4.Hyaluronic acid is amazing at retaining the moisture of your skin. It makes your skin feel flexible and elastic with remarkable anti-aging properties.
5.Dermabay Vitamin C serum with hyaluronic acid is best when paired with one another, and does wonders to your skin. These ingredients give you the most immediate, reliable and long lasting effects when used together.

What makes Dermabay's Vitamin C 15% and Hyaluronic acid 1% serum special?

1.Formulated with the most stable and effective Vitamin C derivative – Ascorbic Acid, this face serum works as a skin brightener and helps in reducing acne scars, blemishes, hyperpigmentation, sun damage, builds collagen and evens out skin tone. These are just a few of several Vitamin C serum benefits.
2.The blend of 1% hyaluronic acid retains moisture in your skin and gives you a natural dewy and plump look all day long.
3.Both Vitamin C and Hyaluronic acid together, helps to improve the overall texture of your skin by removing the dead skin cells, while giving it all the necessary nutrients it needs.
4.Regular application of the serum helps in lightening pigmentation and dark spots and patches to even out skin tone and give your skin a radiant glow it needs.
5.It also protects the skin from photodamage and boosts collagen production to fight signs of early ageing, fine lines and wrinkles.

Buy Dermabay Vitamin C serum (15%) with hyaluronic acid (1%) to get that radiant glow your skin deserves.
Share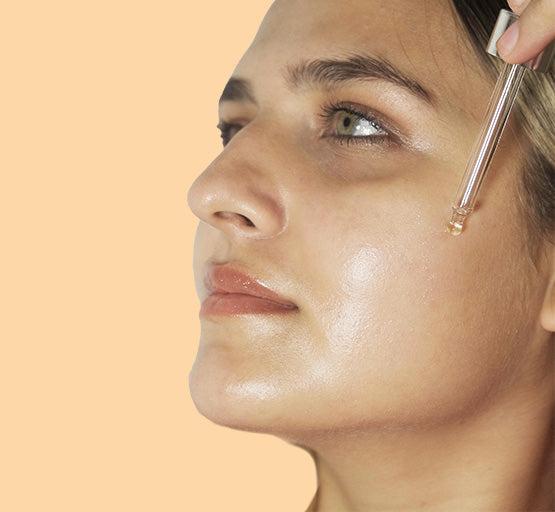 Glow Unleashed!
Dermabay's Vitamin C 10% + Hyaluronic Acid 1% Serum is a skincare power couple, here to revive your skin. Our Vitamin C, also known as Ascorbic Acid, tackles acne scars, blemishes, and hyperpigmentation, while providing a shield against sun damage and kick-starting collagen production.
The serum also boasts the moisture-locking prowess of Hyaluronic Acid, bringing a dewy, plump look to your skin. Step into a new realm of skincare with this unique blend of ingredients that work together to improve skin texture, reduce signs of aging, and enhance skin radiance. With Dermabay, don't just glow, glow like never before!