Shield your skin from the sun with Dermabay's Sunscreen. Our broad-spectrum SPF 50, PA++++ formula contains Tetrahydrocurcumin and Methoxyphenyl Triazine, active ingredients that protect from UVA/UVB rays and scavenge free radicals. This lightweight, hydrating, and non-sticky sunscreen also combats premature aging, leaving your skin protected and radiant. With Dermabay, you can enjoy the sun without the worry.
What does Dermabay Sunscreen for skin exactly do?

1.The active ingredient – Tetrahydrocurcumin is famous for it's free radical scavenging. Our skin is exposed to several harmful UVA/UVB rays, blue lights and other environmental factors due to which free radicals are generated and it ages the skin.
2.Dermabay Sunscreen for skin contains tetrahydrocurcumin that scavenges the free radicals from your skin preventing the generation of free radicals and early signs of aging. It also offers skin lightening benefits because of its antioxidant properties.
3.Methoxyphenyl Triazine is worth knowing as the best sunscreen agent because of its exemplary benefits. It is a broad spectrum sunscreen agent that covers whole UVA, UVB rays with peak protections at about 310 to 340 nm unlike other older UV filters.
4.UV radiations are the most important cause of sun tanning, sunburns, premature aging of skin and development of other skin issues. Methoxyphenyl Triazine is a broad spectrum and best UV absorber, absorbing UVB as well as UVA rays and thus prevents premature aging, fine lines, wrinkles, sun tan and enhances the glow.

Why Should You Buy Dermabay Sunscreen?

1.Now who wouldn't want to Buy Dermabay Sunscreen when it's made with active ingredients like Tetrahydrocurcumin and Methoxyphenly Triazine. These two ingredients works like magic on the skin. With the best antioxidant properties and best UV protectants it prevents your skin from sun damage and early aging due to it's harmful rays.
2.SPF 50, PA++++, broad-spectrum with Ultra Matte Finish that gives the skin a velvety, non sticky, non greasy look without leaving a white cast behind.
3.Clinically tested by dermatologists, this Sunscreen is water and sweat proof, protects you from UVA, UVB rays and blue lights which can cause fine lines and wrinkles and other early signs of aging.
4.Buy Dermabay Sunscreen which is lightweight, hydrating, non sticky and easy to use that will give you a full coverage against sun tanning and harmful rays.
Share
Maximum Glow
Dermabay's Sunscreen is your skin's personal shield. Our broad-spectrum SPF 50, PA++++ formula, packed with active ingredients like Tetrahydrocurcumin and Methoxyphenyl Triazine, wards off UVA/UVB rays and fights against free radicals.
Maximum Protection
Beyond sun protection, our sunscreen brings with it a promise of hydration and glow. It's lightweight, non-sticky, and doubles up as an aging combatant. With Dermabay, your skin gets the protection it needs without sacrificing on radiance. Go ahead, soak up the sun without a worry!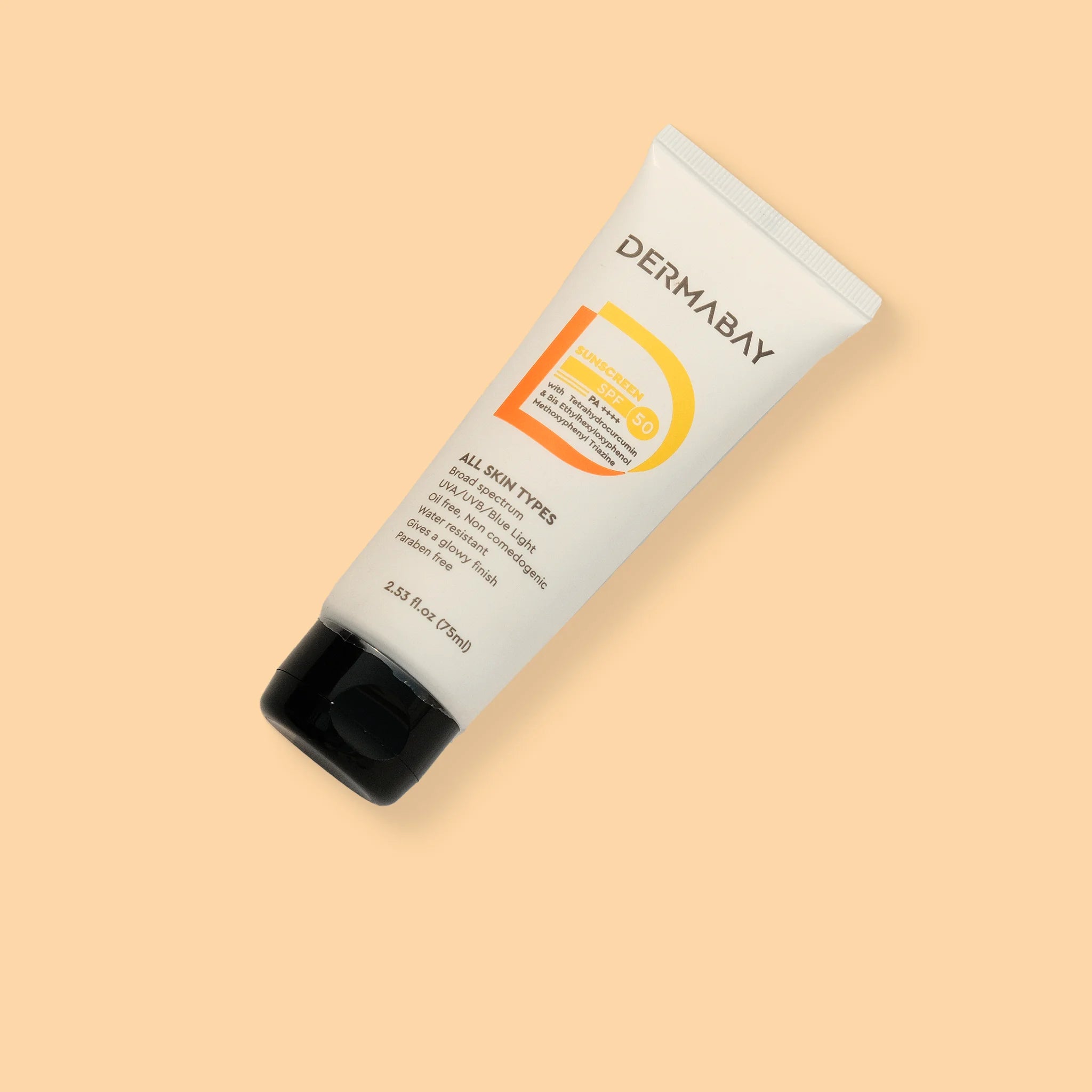 Amazing Sunscreen!
I used alot of Sunscreens as i usually travel alot, but Dermabay Sunscreen is so light and so good. I loved it ❤
Love It!
Absolutely love this sunscreen! The SPF 50 and PA++++ offer fantastic protection. I spend a lot of time outdoors, and this sunscreen doesn't let me down. It's lightweight, non-greasy, and I appreciate the added free radical scavengers – my skin feels so much healthier after using it.
Best Sunscreen out there
I've finally found my holy grail sunscreen! Dermabay's formula is a game-changer. Not only does it provide exceptional sun protection, but it also feels great on my skin. A definite go-to for my daily routine!
Perfect for Makeup Lovers
I love that Dermabay Sunscreen works perfectly under makeup. It creates a smooth canvas and doesn't interfere with my foundation. It's ideal for those who like to look flawless while staying protected.
Beach-Ready Beauty
Dermabay Sunscreen is a must-have for beach trips. It withstands water and sweat, offering superior sun protection. It's become my trusty companion for all outdoor activities.