Use Code FLAT20 to get FLAT 20% OFF
Stay ahead of time with Dermabay's Retinol 0.2% Serum. Our retinol serum revives the collagen and elastin lost over time, reducing fine lines and wrinkles. It also improves skin tone and texture by gently exfoliating. Dermabay Retinol Serum is a skincare champion that can help you maintain a youthful, radiant complexion.
Fine lines, Wrinkles, Loss of elasticity, Uneven Skin Tone

Suitable for - All skin types

For better results use - Gentle skin Cleanser then Dermabay Retinol Face Serum
What exactly does Dermabay Retinol Face Serum do?

1.Fights signs of ageing – A best retinol serum for face that vanishes fine lines and wrinkles by producing elastin and collagen which are lost over the time. It gives your skin the upliftment it needs and keeps your skin elastic and firm which means fewer wrinkles.
2.Retinol serum benefits the skin by reducing dark spots and evens out skin tone by stimulating skin cells turnover which is a sort of "exfoliating" effect and improves the overall texture of the skin.
3.Buy Derma e Vitamin C serum and use it with the combination of retinol to help lighten dark spots. AM – Vitamin C serum, PM – Retinol for a radiant skin everyday.


What makes Dermabay Retinol face serum special?


1.Application of the best retinol serum for face will give you a younger looking skin within a few uses. Retinol slows the breakdown of collagen and increases the elasticity of your skin giving it a younger and plumper look. It helps in diminishing fine lines and wrinkles.
2.It is free of harsh chemicals and paraben, thus no redness, flakes and flushed skin anymore. This light weight formula will make your skin feel more smooth, fresh and dewy.
3.It is the best retinol serum for face and has an exfoliating effect on the skin. It removes the dead skin cells and evens out skin tone while giving you a soft and smooth feel on your skin.
4.Make way for a new, brighter looking skin. Dermabay retinol face serum will enhance skin radiance by exfoliating dull and dry skin and gives you a more even toned skin armed with increased levels of collagen and elastin.

Buy derma skincare products for a beautiful you.
Share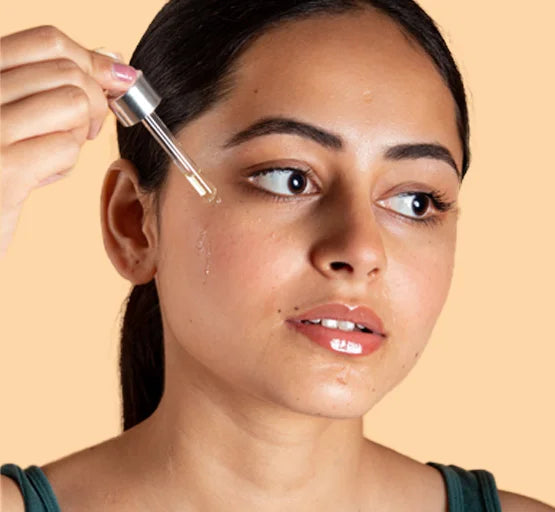 Fight the Clock with Confidence
Dermabay's Retinol 0.2% Serum is a time-traveling treat for your skin. This potent serum breathes life back into your skin by stimulating collagen and elastin production, reducing the appearance of fine lines and wrinkles.
There's more to this serum than just anti-aging properties. Dermabay's Retinol Serum also works on refining skin texture and evening out your skin tone, all thanks to its gentle exfoliating effect. Let this skincare champion help you maintain a youthful, radiant complexion that defies time.